Lebron Should Stay in Miami
"I always say, decisions I make, I live with them. There's always ways you can correct them or ways you can do them better. At the end of the day, I live with them." --Lebron James. Ok Lebron. You made your decision; now live with it.
The Big Three
It all started in Boston in 2008. On draft day, the Celtics made a blockbuster deal to snag Ray Allen. This led to the arrival of Kevin "KG" Garnett. From that day forward, basketball would never be the same.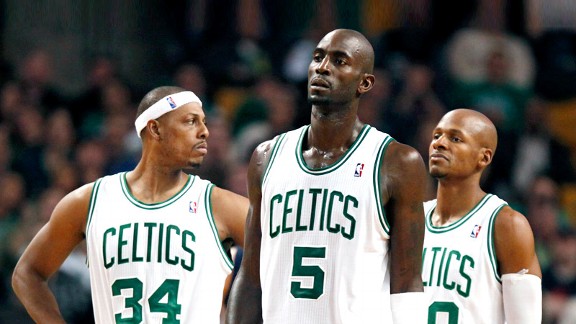 Fast forward to 2010. The year of the decision. Chris Bosh and Lebron joined Dwyane Wade and the Miami Heat guaranteeing us an unheard of 6 championships. The first year was full of struggles and media jeers. No one's laughing now. In the past three years:
2011-12: Miami Heat NBA Champions
2012-13: Miami Heat NBA Champions
2013-14: Miami Heat NBA Runner-Up Champions
Although the Heat haven't quite delivered the 6 championships we were promised, they still could.
His Options: Cleveland
Right now, it looks like Lebron is only seriously considering two options. Remain with the basketball genius Pat Riley, or return to his old team, the Cavaliers. Let's look at the pluses of Cleveland.
Kyrie Irving
Young upcoming team aka Andrew Wiggins
Loyal fans (Oh wait...)
Kyrie Irving (Did we already say that?)
There are some downsides to Cleveland also. The recent losses of Luol Deng, Jarrett Jack, and Tyler Zeller all diminish the talent of the Cavs and we could return to a Lebron-does-it-all Cavalier team of the early 2000's.
His Options: Miami
So if not Cleveland, what does Miami offer Lebron:
The basketball expertise of Pat Riley
A team where he just missed being a 3-peat NBA champion
Loyal fans (Oh wait...)
(Potentially) All-Star teammates in Bosh, Wade, and the youngster McRoberts
To me the choice is clear. We've already sat through the Decision once. Make the low-drama, intelligent decision and stay in Miami. But low-drama and intelligent isn't very Lebron like, is it?
What do you think? Where should Lebron go? Would you want him on your team?